Are you suffering from hair fall? Do you have frizz-prone, difficult to manage hair? The so-called magical remedies, somehow don't have any effect on your hair? Then you are at the right place. Today, I will share the best hair wash routine to stop hair fall and boost growth.
Let me share my hair type.
I have somewhat wavy, thin and prone to frizzy hair; I know, straight, wavy hair is not supposed to be frizzy, but my hair seems to have a mind and will of its own. It used to be a struggle to style my hair as it never cooperated and I could hardly ever get the style I desired. This coupled with the wrong hair care routine left me with frizzy hair.
And as if this wasn't enough, I also started experiencing hair fall. At first, it was nothing major and I did not pay much attention. However, over time I observed I was loosing more and more hair. Now this required for some intervention.
I started scouring the internet to find a solution to this problem. But most of the references I could find talked about curly hair or the Curly Girl routine (otherwise called the CG method). Very few to none talked about dealing frizz in straight to wavy hair.


Various hair wash routine for growth

I tried variety of hair wash methods. Here are some of the most popular ones.


Curly Girl Method
I decided to try the CG method to see how it worked for my frizz and hair fall. CG routine calls for skipping shampoo altogether and washing your hair with conditioner.
At the end of this experiment, I was left with a big mess of greasy, oily hair which I had to wash with shampoo to get a clean feeling. Maybe I was using the wrong products, or the wrong quantity of the right product or something else but this was a big failure for me.


No Poo
I also read a lot of raving reviews about No-Poo. In this, you wash your hair with baking soda and condition with an acidic rinse, typically apple cider vinegar. Armed with this new information, I took a bowl of baking soda and a cup of ACV in my next shower.
Result? Let's just say I couldn't get the knack of it. My hair was still dirty, greasy, and even though ACV rinse made my hair soft, a walk in the afternoon rain left me smelling like a salad. That was the end of this experiment. I would never go to public places smelling like a salad. Period!


Hair wash powders
Next, I tried washing my hair with hair wash powders, mainly using Reetha, Shikakai, and Amla. This is an age-old hair wash method in India, and a lot of people swear by it. I found this too time-consuming, messy and ineffective.
I applied a paste of equal parts shikakai, reetha and amla and washed with water. And washed some more. And some more.
I think my water consumption that day was enough for 10 people. Even after washing my hair for ages, there were flakes on my shoulder. I was not sure which one would be easier, to pretend I had dandruff or to explain why dust particles were falling from my hair.
By this time, I decided, instead of following what works for others, I would have to devise a routine that works for me.


My hair wash routine to stop hair fall and boost growth
On the whole, I still follow the practice of oiling -> washing -> conditioning hair, but with some tweaks.


Oiling/ Pre-Poo
In India, it is a ritual to oil hair before hair wash and I have grown up with the same habit. I made a change from my childhood days. Nowadays, instead of slathering oil on my head I only use a few drops. The head massage generally accompanied by oiling does the major work than oil itself. So use only a little amount of oil and give a good head massage to yourself.
Tweak1: reduce the quantity of oil and give yourself a good head massage


Shampoo
Since nonlathering hair wash methods don't remove oil effectively from hair, I decided I needed something with decent lather. With this in mind, I explored sulfate-free shampoo as they cause lesser damage and don't dry up hair. I have created the list of sulfate-free shampoo that I have already explored or are on my list to try.
Here I made another tweak: don't wash your twice even if the usage instruction asks for it. I realized, my hair was becoming too dry on washing it twice, so I wash it only once. It is generally enough to remove the small amount of oil applied. This trick has worked for me alike for light oils like jojoba and thick castor oil.
Find the shampoo which works for you and be ready to try different options to find the best fit.
Tweak 2: Don't wash your hair twice, use generous amount in first attempt and let it sit for sometime.
Tip: don't use nails while massaging oil/ shampoo. Instead, use finger pads and ensure hair is not moved around too much.


Condition
It is very important to use a good conditioner post-wash. After hair wash, I towel dry my hair before applying a silicone-free conditioner. This ensures the product stays on the hair and does not drip away with water.
Use hot water to wash shampoo as it will remove oil, buildup, grime from hair. Use cold water to wash conditioner as it will close the cuticles and gives shiny, glossy look to hair.
Tip: Take a cotton t-shirt in the shower and use it to remove extra water. This will remove water and won't cause frizz.


Leave-In Conditioner
It is important to use a quality leave-in conditioner post hair wash as it will seal in moisture and add shine. I prefer to use a drop of light oil like hemp, argan or prickly pear oil. I then let my hair dry completely.


Drying
As much as possible, I try to air dry my hair. I let it dry up to 80% before brushing it. Unlike curly hair, which is recommended to comb only when wet, straight or wavy hair should not be combed when it is wet. The hair is weakest when wet and breaks easily. I comb and detangle hair when it is almost dry. If required, I apply serum at this point before detangling.


Sleeping Routine
Taking care of hair while sleeping is as important as taking care of it when awake. All the tossing and turning on the bed during sleep causes some major tangles and can result in breakages. The best way to avoid this is to use either a silk pillowcase or wear a silk cap.
I use this silk cap for sleeping and I have observed major changes in my hair. Actually, when I wear a silk cap during sleep, I have lesser tangles the next day and my hairstyle is also maintained. This is a major gamechanger for me.
Tweak 3: Invest in a good quality silk cap and wear it before bed. You will wake up to fewer tangles and perfectly styled hair.
Tools for hair wash routine to control hair fall and boost growth
Along with following the best habits, you also need the right set of tools. Best tools for hair are comb and brush. Always use a wide-tooth comb for detangling hair as it causes the least damage and can easily detangle your hair.
Brush are generally personal choice, you may prefer to use any brush as long as it suits you. Brushing hair provides dual benefit of combing hair as well as massaging the scalp. So use a brush which can provide a good, soothing massage. You may find a brush appropriate for the objective


Next-Day Refresh
As washing face refreshes us and our skin, similarly, we also need to refresh our hair. Since making hair wet daily is not a good practice, I lightly spritz my hair with some natural hair moisturizer. This helps me in combing my hair and also gives a glossy look to my hair.
Recap
Let's recap.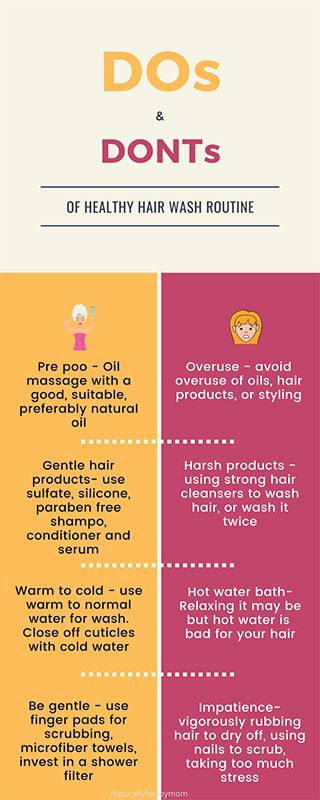 Everyone is different and their hair problems are also unique. It is important to find the hair care routine which suits you and works best for your hair. Give this routine a try and let me know how it worked for you. Feel free to tweak it according to your requirements and let me know in comments what you did and your experience.