Hi beautiful! Today I am going to talk about how to get rid of acne spots on the face. You got rid of the acne and feel like you have won the battle against lousy acne & pimples. But they leave you with headstrong spots to struggle with. But, don't fret! I know how you can get rid of acne and pimple spots naturally at home.


Although, there are inundated acne spot removing creams and treatments available in the market, that include chemical peeling to fade acne scars & dark spots. But, these treatments make skin extremely sensitive to the sun, makeup, and skincare products. And, I prefer trying home made things than just creams.

So let me walk you through the methods of how to remove spots caused by pimples and acne from the skin.


How To Get Rid Of Acne Spots On Face – 5 Home Remedies
Acne spot or acne scar seems to be the permanent resident on the skin when it doesn't go away quickly, but it really isn't. Because spots are caused by damage to the upper layer of the skin and make it pigmented, it can easily go away by providing some cells repairing nutrients to your skin. Why don't you impart your skin the essential nutrients it needs to rejuvenate itself by giving the best treatment for removing dark spots on the face.

Related: Try these simple home remedies for whitening the skin


Home Remedies to remove spots on the face


1. Papaya Face Mask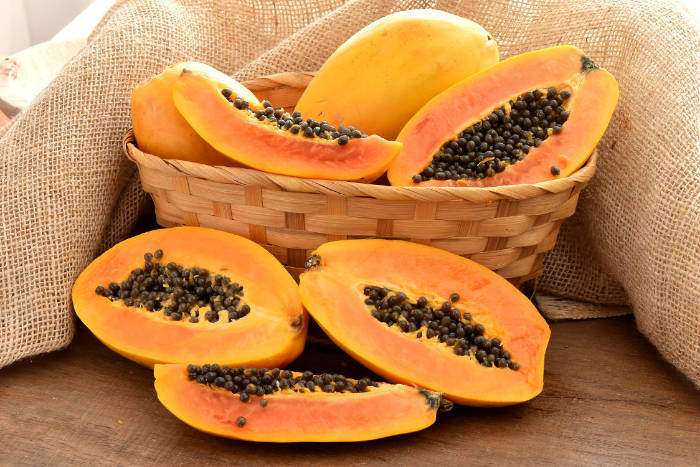 Yes! It's time to relax your skin and abolish dark spots with an outstanding papaya face mask. Papaya is infused with an enzyme called papain and loaded with antioxidants, minerals, and alpha-hydroxy acid that are the best-known ingredients for rejuvenating skin cells and increasing collagen production in the skin.
Papaya is a nutrient powerhouse that you can use to eliminate your other skin problems like wrinkles, fine lines, blemishes, and acne scars along with the dark spots and also imparts your skin an abundance of hydration and nutrients to be refreshed and glowing through the day. Let's see the quick way to use papaya face masks for removing dark spots quickly.
Ingredients You Need:
3-4 pieces of chopped papaya
1 tbsp of lemon juice
How To Use:
Mash papaya in a bowl with the help of a fork nicely. (make sure no lumps remain in it)
Add lemon juice to the paste and mix it well.
Clean your face with warm water and a deep cleaning cleanser to open up your skin pores and remove sebum and impurities.
Apply the smooth papaya paste on your face.
Let it sit for 30-40 minutes.
Wash your face with warm water.
Pat dry and apply toner and moisturizer.

2. Honey, Turmeric, and Lemon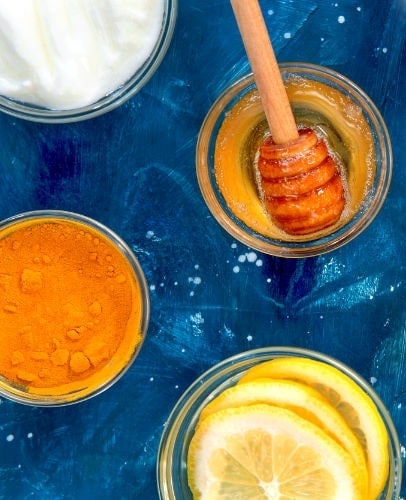 And in comes another skin hero to slaughter the dark spots!! Honey & turmeric is known as a legendary home remedy for being proficient at scars and wound healing. To your surprise, it also has amazing skin lightening, antibacterial and anti-inflammatory properties.


Lemon is infused with citric acid that works like magic to eliminate melanin from the skin and lighten the dark spots. Don't you think using honey, turmeric, and lemon is the best tip for removing dark spots? Let's check out the simple steps to use this face mask.


As an additional tip, if you want to increase the potency of any face mask, face steam will help you to open up the skin pores & clear impurities to faster absorption of nutrients into the skin.


Ingredients You Need:
2 Tbsp of honey
1 tbsp of turmeric powder
½ tbsp of freshly squeezed lemon juice


How To Use:
Mix honey, turmeric powder, and lemon juice in a bowl.
Clean your face and exfoliate your skin to open up the skin pores.
Pat the face dry.
Apply the mixture of honey, lemon, and turmeric on your face.
Leave it on your skin for 20 minutes.
Wash off and apply toner and moisturizer on your face.
Use it twice a week to see good results.


3. Aloe Vera Gel


Skin experts and dermatologists believe that scars and dark spots are more likely to occur and reside on undernourished and dehydrated skin. Because when skin is not optimally hydrated, it takes time to improve the damage due to dormant collagen production. But, you can get it alright by infusing your skin with the goodness of aloe vera.


Aloe vera is enriched with outstanding skin nourishing and hydrating vitamins such as vitamin C, E, and beta carotene that restore skin health and lighten & whiten the skin. Moreover, aloe vera gel is also saturated with incredible anti-bacterial, antimicrobial, and anti-inflammatory properties that kill pimples and acne-causing bacterias right away and soothes the sunburned skin. See below the simple steps to use aloe vera for skin.


You can use a packaged aloe vera gel in the below mask, but opt for pure aloe vera gel with no additives. Additives in the gel may reduce the potency of the face mask.


Ingredients You Need:
Fresh Aloe Leave
2 tbsp Lemon juice


How To Use:
Take a fresh aloe leaf directly from the plant.
Place it horizontally and cut it in half. Now, scoop out the aloe vera gel with the help of a spoon in a clean bowl.
Now, you can either grind it or just mash it with a fork to get the thin & smooth consistency.
Add lemon juice to it.
Pour the aloe vera gel into a glass bottle and put it in the refrigerator. ( make sure the bottle is airtight and you can use it for 4-5 days as long as it's in the refrigerator)
Clean your face and pour some freshly prepared aloe gel on your palm and massage it on your face for 2-3 minutes.
Leave it on your skin as long as you can or apply it overnight, It works as the best skin repairing moisturizing.
Related: Step by step guide to do natural facial at home

4. Tomatoes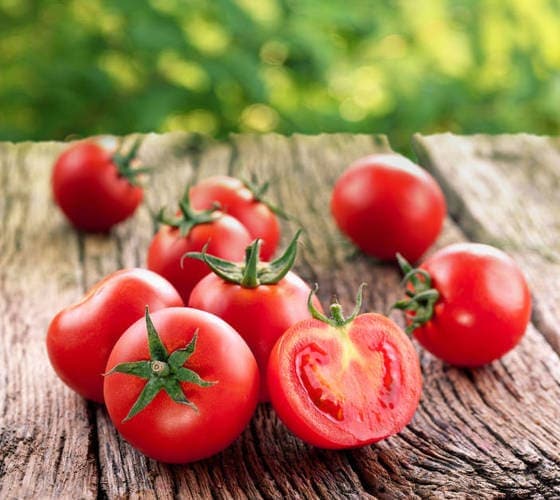 Tomatoes are a wonderful fruit to remove dark spots from the face. It's enriched with powerful antioxidants lycopene and vitamin C. Tomato not only contains excellent skin lightening properties but also improves the skin texture and brings smoothness to the skin. Discover how this humble fruit can help you to get rid of stubborn dark spots with ease.

Ingredients You Need:
How To Use:
Cut the tomato and peel out the outer skin.
Now, mash the tomato into a bowl and exclude extra liquid.
Apply the tomato pulp on the skin after deep cleaning your skin with a face wash.
Let it sit for 20 minutes.
Rinse your face and apply rose water followed by a good moisturizer.
Repeat this twice a week to see great results.


5. SandalWood Powder

Sandalwood powder is a wonderful ayurvedic ingredient. It's enriched with excellent skin-lightening agents and anti-inflammatory properties. Sandalwood powder has been used for years in Asian countries to soothe the skin from sunburn and reduce pigmentation.

Apart from this, it works miraculously to bring down stubborn dark spots. Here is a quick way to include sandalwood powder in your skincare routine.


Ingredients You Need:
2 Tbsp of sandalwood powder
1 tbsp of rose water
½ tbsp of lemon juice


How To Use:
Mix all the ingredients in a bowl and make a smooth paste of it.
Clean your skin and apply the sandalwood paste to your skin.
Let it dry for 15 minutes ( don't make any facial expression, it can cause fine lines)
Take a wet cotton bowl to remove it from your face when it gets dry.
Rinse your face with water.
Apply moisturizer.
Use sandalwood paste twice a week for reducing dark spots faster.


Additional Tips
How to increase the potency of face masks?
You can increase the potency of any of the above face masks by using rose water for diluting the mask. Rosewater acts as a coolant, and also helps to relax. You can use any floral water of your choice if you are not fond of rosewater.


How to maximize the benefit of face masks?
You can maximize the benefits of face masks by steaming your face before applying the face mask. Steam helps to open up the pores of the skin. This helps in absorbing the nutrients and provides more benefits to the skin.


Can I replace lemon or rosewater in the face masks?
You can easily replace rosewater with any floral water of your choice. Replacing lemon juice is a little tricky, as lemon juice is rich in acetic acid and helps to remove tan and pigmentation. You can use either white or apple cider vinegar in place of lemon juice. Or you can use curd to make a thicker pack.


Conclusion:
In this article, I have shared some of the home remedies to get rid of acne and other dark spots on the face. I hope you loved the article and will use these outstanding home remedies to remove your dark circles quickly and effectively.
Do share your feedback in the comments!