When it comes to treating acne, clays are a great tool to have in your arsenal. Here I give you some of the best natural clays for acne-prone skin. You can use each on its own, or combine for a more effective mask.


The ground may not be the first or even last place you may think of finding an effective skincare ingredient. But clays can be really great for your skin. And by clay, I don't mean your normal mud. I mean clay extracted with utmost care and standards.

When extracted with proper care, they retain most of their nutrients and oil-absorbing properties which help in controlling acne.
Benefits of clay
Clays are miracle workers for treating acne. They can absorb excess oil, impurities, and exfoliate the skin. These properties and minerals in the clay, help to tackle the root cause of acne.

1 Draw out Impurities
At the root of every pimple lies clogged pores. Excess oil, dead skin cells, dust, impurities are some of the junk clogging the pores. When pores are clogged, the skin is unable to breathe, and the sebum gets blocked. When this junk is oxidized or infected, it causes pimples.
Due to its absorbing properties, clays can draw out oil, impurities, and other junk from the skin's surface. This opens up the pores and gives it clean glow.
You can consider clays as magnets. They attract impurities from the pores, thereby reducing congestion from pores and allowing them to go back to their normal size.
2. Absorb Oil & Reduce Shine
Shiny skin is a bane of oily skin. If you have oily skin, you may have suffered from oily sheen shortly after face wash. This sheen is present due to excess oil produced by the glands.
Along with absorbing impurities, clay can absorb this excess oil. It does not draw out excess oil from glands and distribute it on the surface. Instead, it absorbs that excess oil giving skin a more mattified look.
3. Restore balance
As you would have seen from above, one of the major reasons of acne is excess oil production. This excess oil can give oily sheen, get trapped in pores, and cause breakouts.
One of the main benefit of using clay is, it will absorb excess oil and won't strip necessary moisture. When extra oil is absorbed, skin gets properly balanced with glowing complexion.
4. Nutrient Rich
Apart from their impurities drawing capabilities, clays are also rich in nutrients to maintain your skin's health. Clays are generally rich in silica, magnesium, sodium, copped, calcium (to name a few). These minerals help in collagen generation and keeping skin plump and firm.
5. Something for all skin type
Each person is different and their skin problems may be equally different. But with the numerous options available in clays, you can come up with a solution unique to your own skin type and problems.
You can decide to use only one clay or combine multiple clays to get maximum benefit. There is something to suit all skin types.
Best Natural Clays for Acne-Prone skin
Here is a list of best natural clays for acne-prone skin.
1. Bentonite Clay
Bentonite clay is grey colored clay that absorbs excess oil from the skin. Composed of volcanic ash, it is then dried, filtered, and sold commercially.
Bentonite clay is rich in silica, calcium, magnesium, sodium, copper, iron, and potassium (source). It helps to expel toxins and impurities from the body. When applied topically, it helps to remove impurities from the surface of the skin.
It is very absorbing and the skin may feel dry after using this. You can either mix it with other clays or add aloe vera gel to counter the dryness.
2. Rhassoul Clay
Rhassoul clay is a natural clay mined from the mountains of Morocco. It has been long used by North African women to wash their faces and hair. It is rich in silica, iron, magnesium, potassium, sodium, lithium, and trace elements (source)
When combined with water, it makes a thick paste. It helps to soften the skin, reduce sebum production, aid skin regeneration by removing dead skin cells and helps to tighten the pores.
Compared to bentonite, this clay is gentler making it more suitable for sensitive skin.
3. Kaolin Clay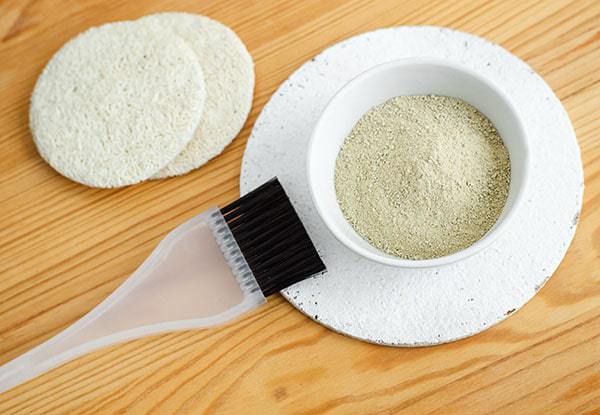 Also known as white clay, commercial clay, china clay among others. This is a naturally occurring clay found in the soils developed from rocks subjected to hot and moist climate.
This is fine and light and does not dissolve easily in water. In its inert form, it is white in color. But it may be found in different colors if it is combined with other elements. It may be found in pink color when combined with iron oxide.
Like other clays, this is also rich in silica that helps to remove dead skin cells and help in skin regeneration.
Compared to others, this is the mildest clay. Due to its fine and soft texture, it feels silky on the skin. It can be used for face masks as well as dusting dry skin.


Other clays
These are the other clays touted to be beneficial for skin. I can't share much details about them as I have never used these. Most of these are on my list to use, I will update after using them.
4. Red Clay
5. Dead Sea Clay
6. Zeolite Clay


Best Clay Mask for Acne
Here is one of the best, diy clay mask for acne. I use this regularly, and it helps to keep my skin clear. Whenever I see a new pimple forming, I use this regularly, even twice a day, and it gets rid of the pimple quickly.
Sometimes, I use this mask as spot treatment and it helps to clear away my skin in no time. This is my secret tool which gives me the confidence to try various products without fear of breaking out.
I have sensitive, acne-prone skin so I use combintion of clays in this mask. You may skip some clays or use only one depending on your skin type.
Acne-Bursting Clay Mask
Ingredients
1 TBSP Bentonite clay
1 TBSP Rhassoul clay
1 TBSP Kaolin clay
3 drops of orange or tea tree essential oil
How to prepare
Using a wooden or plastic spoon, take an equal amount of Bentonite, Rhassoul, and Kaolin clay in a plastic bowl.
Add a few drops of tea-tree or orange essential oil.
Mix properly and store in a plastic, air-tight container.
How to use
Scoop out the required quantity, mix with rose water to make a thick paste. Apply it all over your face, paying close attention to active pimples. Leave till it just starts getting dry. Rinse off with cold water and pat your skin dry. Follow up with DIY toner and moisturizer.
Conclusion
Do you use clays in your skincare regimen? Which ones are your favorite, how do you use them? Share your thoughts in comments and lets burst that acne!
Till next time, Stay Beautiful!