Hi beautiful! Welcome to this review of Seer Secrets Phyto-Active Face Defense Cream.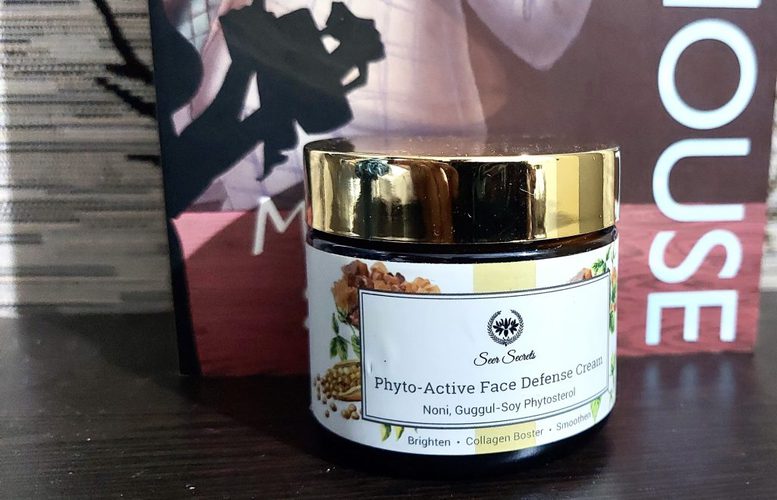 I have used a couple of Seer Secrets products earlier and really enjoyed them. So, when I was looking for a good face cream, I decided to try out this cream from Seer Secrets. After comparing available options, I decided to opt for Seer Secrets Phyto-Active face defense cream. And here is my review after using it for almost a month.




Claims
This noni, guggul enriched cream claims to treat acne, wounds, and rashes on the skin. Helps in retaining skin moisture, and aids in skin hydration. It also fights the signs of aging and provides youthful skin.


– reduces fine lines and signs of aging
-anti-acne and glow booster
– hydrates the skin

Now let's see whether this cream meets these claims or falls off the mark.



Seer Secrets Phyto Active Defense Face Cream Details


Packaging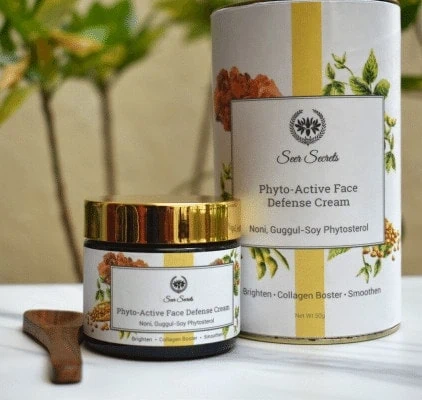 This noni, Guggul enriched cream comes in a brown color, wide mouth, glass jar. The dark color of the jar is helpful to avoid exposure to sunlight and retain the good nutrients of the ingredients.


The jar has an outer carton and an inner plastic lid to prevent leakage. The combined coverage of the outer and inner lid makes the packaging leak-proof. The compact size of the jar makes it even comfortable to carry in a handbag <—- This is from experience. I had to stay in hospital for a couple of days and I kept this jar in my bag the whole time. It was easy to carry and did not feel heavy at all.


Now coming to the best part, a wooden spoon is provided to take out the cream. This is really great, as the spoon is useful in taking out the cream from the jar without putting the fingers in it. This helps prevent contamination and preserve the cream longer.


All in all, the packaging is pretty classy and thoughtful to ensure it is user-friendly, while not compromising the ingredients or contaminate the cream.



Ingredients of Seer Secrets Phyto Active Defense Face Cream
Ingredients of the cream are printed on the jar.

"Cream base, Moringa seed oil, sesame oil, Guggul extract, soy phytosterol, titanium dioxide, linalool, balsam Peru, coriander seed oil, Olibanum, Fermented rice extract, Fermented maize starch, watermelon seed oil, pomegranate seed oil, seabuckthorn oil, fermented corn starch, Phenoxyethanol, ethylhexylglycerin"



As you can see, this cream contains a mixture of some really cool oils. Moringa seed oil, Pomegranate oil, seabuckthorn oil are great for skin and delay the signs of aging.


I only have an issue with "cream base", as complete ingredients of the cream base are not mentioned. It would have been better if complete ingredients of the base were also included in the list.


How to Use Seer Secrets Phyto Active Face Cream?
Usage instructions are pretty simple. On a clean face, apply dots all over your face to ensure complete coverage. Lightly massage the cream till it is absorbed in the skin.


Price & Availability
The cost of 50g of this cream is Rs 639, but it is generally available at a discount. After the discount, it cost me around Rs 500.

Considering that the same size of Olay moisturizer costs around Rs 900. this is much more affordable.


This cream is only available online, you can buy it from Amazon.

Texture & fragrance
The cream is cream in color, and has a thick consistency. Seeing the texture, I was skeptical whether it would spread easily or would need good rub to absorb. Surprisingly, it spreads easily and absorbs quickly.

The cream has a strong jasmine floral smell. The firt time I tried it, I found the smell strong and bothersome. But the smell fades away in minutes after application, so I'm fine with it.


My Review of Seer Secrets Phyto-Active Defense Face Cream
I have been using this cream for almost a month now. I use this as a moisturizer during the day, and often as a night cream as well. The cream spreads easily and does not need a lot of rubbing. The cream is pretty moisturizing and takes a little longer to absorb completely in this summer season.


It absorbs completely in about a minute, after which my skin feels nicely moisturized and hydrated. For that minute, my skin does feel a bit oily. It does not make the skin oily or feel heavy.


During the day, I follow up with high coverage sunscreen, and during the night I generally apply a face serum before this. After the initial 5 minutes, my skin feels smooth and hydrated. It did not cause me any breakouts or pimples, so that was a big win.

Coming to the claims, I have not yet observed major differences in my skin. I have blemishes due to unconcerned and careless days in the past. After using this cream for a month, I did not see any change in those blemishes or little fine lines I have around my mouth, and eyes. I did observe hydrated skin and a little glow after using this skin, so I will say it meets 1 out of 3 claims.



Benefits
Nice ingredients list
Nicely moisturizes and hydrates the skin
Does not break out or cause pimples
Nice packaging
Add little bit of glow



Cons
Did not meet the claims of reducing fine lines and signs of aging
Strong floral smell
Takes some time to absorb
Maybe too moisturizing for oily skin


Recommendation
I would say this is suitable for dry skin beauties. Give this a miss if you have very oily skin.



Rating
2.5/5 spoons of happiness


Repurchase
This cream may work better for dry seasons, so I may try this again in winters to see if this still takes time to absorb or it gets less moisturizing for my drier skin.