Don't make these haircare mistakes that affect your hair growth!
Every woman wants full, lustrous, long hair. But often, there is hardly any growth even after trying all the hair treatments. It isn't like the hair is not growing. Hair is growing in itself but there is more breakage and that compensates for all the growth. Here is a list of hair care mistakes that might be impacting your hair growth.



1.Washing hair daily
Maybe you have oily roots that don't feel clean until you wash them daily. You may have a clean head for a day and then it again becomes oily.
The daily wash puts a lot of strain on hair and causes damage. Daily washing also strips natural oil from the scalp. The scalp then goes in an overdrive to compensate for the lost oil and produces more oil. This is a vicious cycle, and one way to get rid of this is to reduce hair wash frequency.
Instead of washing your hair daily, try to wash them after 2 days. Then once you scalp adjusts then increase the duration between hair wash.
You want to hit the place where you need to wash your hair maximum twice a week.
2. Washing hair with hot water
As good a hot shower feels after a tiring day, it is actually ruining your hair. Hot water open up pores and causes frizz, dryness, and brittleness. Instead use warm water to wet hair. Use cold water to rinse the shampoo and conditioner.
Cold water closes the cuticles and makes them flat giving your hair a shiny and glossy appearance.
3. Using heat tools too often
Blow drying, curling iron, straighteners all use heat to manipulate your hair. Too much heat exhausts hair and causes breakage.
Every once in awhile, give your hair a break from all the manipulation. Let it grow naturally with all the love and care.
4. Not conditioning scalp
You have been told that you need to condition only the lengths of your hair and should avoid roots like anything. While this is true with conditioners, you need to absolutely condition your scalp.
The scalp is like the soil from which healthy hair grows. A healthy scalp is a pre-requisite for healthy hair. Now, you don't need to dunk your head in oil to condition it.
A gentle head massage is one of the best ways to condition your scalp. It increases blood circulation to the scalp. You can also use any of the natural home hair masks to condition your scalp.
5. Combing Wet Hair
This is another haircare mistake severely impacting your hair growth. Your hair is weakest when its wet, combing wet hair stretches and breaks it.
Instead of combing wet hair, comb your hair when it is 90% dry. This ensures hair is still damp but not soaking wet to cause damage.
6. Not using a clarifying shampoo
You may be using all the gentle products, but there is still a chance, it is causing some deposit on your hair. And you need to remove it for nutrients to reach your hair. How do you remove this deposit? By using a clarifying shampoo!
Even though you should avoid using sulfate shampoo regularly, you still need to include them in your hair care regimen. Sulfates remove all the junk, dirt, and natural oils from the scalp, which makes them harsh. But this is excellent in removing all the build-up.
You should use a clarifying shampoo once in a while, probably a month, to remove all the build-up from your hair.
7. Brushing too often
Heroines in all the romantic books or movies tend to get epiphany while brushing their hair at the end of the day. Well, it happens only in movies.
Brushing your hair too often, or too vigorously can cause severe damage. "100 strokes a day?", forget it. Your hair does not need so many strokes. Brushing your hair twice a day is enough for your hair.
8. Not using right tools
It is very important to use the right brush depending on the intent.
Use a boar-bristle brush to condition the scalp. It helps to distribute natural oils from the scalp to the ends.
Use a round brush for blow drying and to add volume.
Want that sleek, smooth finish, use a paddle brush.
Use a broad-toothed comb, or detangling brush to remove knots and detangle hair.
9. Tight hairstyles from the same place
If you put a strain on a thing continuously at the same spot, it weakens and eventually snaps. The same happens with your hair too. If you keep sporting tight hairstyles like high ponytails or buns, from the same place for a long time, it weakens your hair.
To mix things up,keep switching the partings, even go without any parting. This ensures that strain is not put in a specific spot.
10. Not removing split ends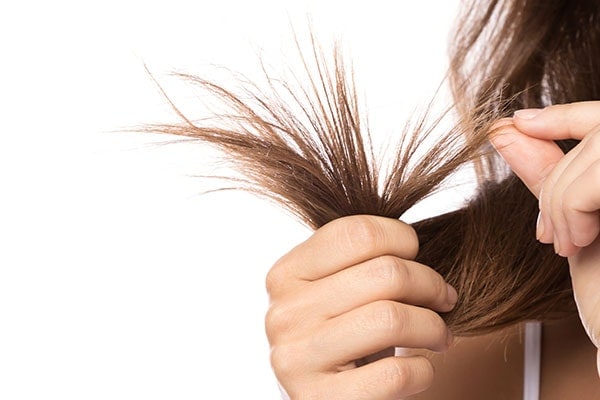 Split ends are a dead-end to your hair growth. There is not way to salvage it. And your won't see any growth without getting rid of it.
The more you linger with split ends, the more length you may have to cut later to remove it properly. Instead, trim your hair every 2-3 months.
You may go longer between trims if you don't have any splot ends, but still, it is a good idea to regularly trim your hair.
Conclusion
These are some of the common haircare mistakes that affect hair growth. And all of us are guilty of making at least one of these. Let's try to avoid them to get healthy hair that just grows.
Know of some other mistakes that people frequently make? Share in comments to let others also know!
Related: Best DIY scrubs for acne-prone skin