How are you beautiful people doing out there? Today I'm going to review Just Herbs Silk Splash rehydrant face wash. I had used this earlier and decided to use it again for some time to confirm how it worked before sharing this review with you.


Claims

A gentle ayurvedic face wash, Silksplash face wash will clean the last traces of dust, grime, makeup, without drying out your skin. It is enriched with honey that helps to retain the moisture of the skin.


Just Herbs SilkSplash Retarding Face Wash Details

Packaging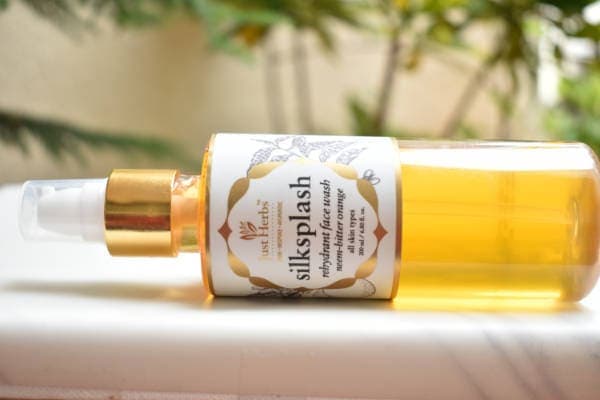 The face wash has pretty basic but efficient packaging. It is packaged in a transparent, pump bottle with Just Herbs label and a protective cap.

The label contains all the details about the product. The transparent bottle helps to see the remaining quantity, while the pump dispenses a required quantity. The outer cover is tight and avoids spillage making it leak-proof and travel-friendly. As I said, the packaging is basic but efficient.


Ingredients


The complete list of ingredients is printed on the bottle. Just Herbs generally prints the list of all ingredients, including the base, and the same is followed here as well. The two sets of ingredients, active and other ingredients, is printed on the bottle.

As you can see from the ingredient list, this face wash contains many ingredients great for the skin.


Usage Instructions

It is very easy to use Just Herbs SilkSplash face wash. Apply on wet face and wash off, pat your face dry and follow up with the next step in your skin routine.


Price & Availability

200 ml bottle costs INR 825, though it is generally available for a cheaper price on Amazon or on sale on the Just Herbs site.
Texture & Fragrance of Just Herbs SilkSplash Face Wash

The face wash is orangish in color and has a medium consistency. It is very easy to dilute it with water and spreads easily on a wet face.

It has a sandal~y smell as sandalwood is one of the ingredients of the face wash. The smell is faint and goes away after washing the face.


My Review of Just Herbs SilkSplash Rehydrant Face Wash

As I said, I have used this face wash many times. This is the third time I am using this face wash and it has not yet disappointed me.

I have used it after a workout, kitchen, usual day of moving between dining table, kitchen, and sofa. I use it twice a day, once in the morning and once in the night.

It cleans my skin without drying it out. It leaves my skin very soft and hydrated. Plus, I find the smell pleasing and refreshing, so I feel refreshed after washing my face.

After washing my face, my skin feels only a teeny tiny bit dry which adjusts after 10 mins. I follow it up with Just Herbs Anti-blemish cream (review to come soon!) or Seer Secrets face cream., and my skin feels refreshed and hydrated.


Suitable For?
The company claims this is suitable for all skin types, and in all the times that I have used this face wash, it has not broken me out even once.
Fair warning though, it broke out suit my sister badly on forehead who has a complicated – combination skin. So if you suffer from severe acne or have a combination skin type and are currently struggling to find your next favorite face wash, try this with caution.


Benefits
Nice ingredients
Refreshing sandalwood smell
Nice travel-safe packaging
Did not cause any pimples
Cleaned oil and dirt including makeup effectively in one wash
After wash, skin was only slightly stretchy
Easy to rinse off


Cons
Expensive – this face wash is on the expensive side
Did not suit my sister with combi skin, so may worsen active acne

Recommendation
Try Just Herbs SilkSplash face wash, if you want to change your skin cleansing routine. Do a patch test if you are currently suffering from active acne, to confirm it will work for you.

Rating
4.5/5 spoons of happiness. I love this face wash 🙂

Repurchase
I'm already on my third bottle, and most likely will be buying this again in the future.


Final Thoughts
Hope this review helped to answer your questions on Just Herbs SilkSplash rehydrant face wash. Have you used this face wash? Share your experience in the comments and let's compare notes 🙂

Till next time, stay beautiful!!