Hello there! Summer is on and with it sweat, oil, and greasy skin. A cooling, sebum retarding face wash sounds like heaven, right? So read on Seer Secrets sebum retarding facial cleanser with lemon shorea and cinnamon review to see if this is your skin's next best friend this season.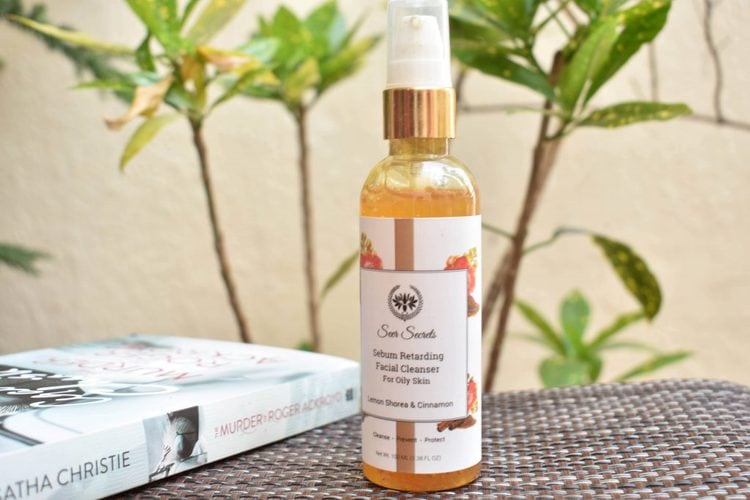 Claims


Pamper your face with this gentle cleansing creamy face wash. Enriched with shorea cleanser will purify your face by reducing sebum and oil-soluble impurities.

It cleanses and unclogs pores while cleansing and hydrating your skin, all the while refreshing you with its heavenly smell.

Let's see how it fared against these tall claims.


Seer Secrets Sebum Retarding Facial Cleanser Details


Packaging


The face wash is packaged in a transparent bottle with a pump outlet. The pump is small and dispensed little quantity of face wash. A transparent bottle allows to see how much product is still remaining and, the pump can be easily opened to use the last remains of the product :).


The bottle has a label with all the details about the product. It is compact and easy to carry. The pump and the plastic lid make the bottle safe to carry in a bag.


The outer packaging was the same as I have come to identify as Seer Secrets' packaging. The bottle was packed in an outer cylinder with metal covers. Overall, the packaging is very classy.


Ingredients

Coconut derived base, lemongrass essential oil, lemon, aqua, cinnamon leaf essential oil, phenoxyethanol, xanthan gum, shorea robusta resin, limonene, linalool


You can find the ingredients of the face wash on the back of the bottle. As you can see, even though, "coconut base" is the first ingredient, its complete ingredients are missing from the list.


Apart from that, it contains a lot of nutritious and skin-friendly ingredients. Plus, it does not contain artificial fragrance, so the "heavenly smell" has to be a mixture of all these ingredients.


How to use Seer Secrets Sebum Retarding Facial Cleanser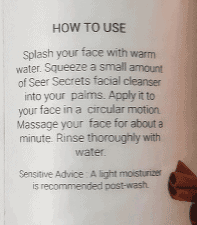 Normal usage instructions are printed on the bottle. In my experience, using this cleanser directly on face required lots of rubbing to mix it properly. Instead I dilute it in my palm, then apply dots all over wet face. It spreads easily and lather pretty nicely.


Price and availability
The cost of 100 ml bottle is Rs 387 but it is generally available for discount.

Texture and Fragrance of Seer Secrets Shorea Cinnamon Facial Cleanser
The face wash has a thick, gel-like consistency. It is thick to spread directly on the face, even on wet face. It dilutes easily with water, and becomes less viscous and spreads freely.


The face wash does meet its claim of "heavenly smell". The fragrance is just great. It is a mixture of oils, resin, and reminds of luxury spa. Considering it is not safe to venture out for facial or spa, this smell does rejuvenates and brings freshness to the day.


My Review of Seer Secrets sebum Retarding Facial Cleanser
I have used this face wash for more than a month in a variety of ways before sharing my experience with you. I have used it after makeup, kitchen, workout, and normal daily routine.


These days, as I'm not stepping out much, I'm washing my face once a day. I use this face wash in the nighttime, before bed, and just wash my face with water in the morning. I dilute 2 pumps of face wash in water to wash my face. The face wash spreads on the wet face easily and rinses off quickly.


In the night, I follow it up with Just Herbs serum and Seer Secrets face cream. In the morning, I just apply a dab of Seer Secrets face cream. My skin is cleansed, hydrated, and the best part – not a single pimple since I started using this face wash.




Suitable for?
Even though the company claims this face wash is suitable for oily, acne-prone skin, dry skin people may also try this face wash. My skin has been behaving erratically, playing, dry-acne-sensitive games. This face wash cleansed it and hydrated it without causing a breakout.



Benefits
Nice ingredient list including shorea, cinnamon, lemon, lemongrass
Affordable gentle face cleanser
Did not cause any pimples
Cleaned oil and dirt including makeup
Smells great, luxury spa-like experience
Did not cause stretchy or oily feelings
Easy to rinse off
Thick gel consistency lasts long
Suitable for all skin types


Cons
Ingredients of "coconut-derived base" are not mentioned on the bottle
Need to dilute for easy usage
Only available online


Recommendation
All you oily, acne-proned beauties, try this face wash. Dry skin beauties may also try this face wash, but be sure to follow up with a good face moisturizer afterwards.


Rating
4/5 spoons of happiness. This face wash worked for my skin really well in this season.


Repurchase
Probably yes. I will be repurchasing this face wash as it worked great for my skin.


Final Thoughts
Hopefully, this review of Sebum Retarding Facial Cleanser helped to answer your questions about this face wash. Have you tried this shorea cinnamon facial cleanser? Share your experience in the comments.