Summer is just around the corner, and while it means fun times enjoying outdoors, it also means more sun exposure to the skin which may lead to more damage. Summer also means a lot of sweat, sun, and the result is clogged skin which is dull, tired. Read on this guide to know some simple tips to get glowing skin this summer naturally.
1. Hydrate with water
a little titbit: Hydra = Water. Hydration means replenishing water.
The key to glowing skin is proper hydration. Drink plenty of fluids to keep yourself properly hydrated. Remember, your body needs water to perform essential operations, In case, it is dehydrated, it will retain water to meet the needs. And skin gets lesser priority than essential operations, meaning your skin will lose the moisture and look dry and dull.
Drink plenty of fluids to ensure your body is properly hydrated, and skin gets ample moisture. If you find plain water boring, try some cool shakes to add the ting.
This summer, water is indeed the best thing you can gift your skin. Don't forget to pack a bottle in your bag when stepping out.
2. Moisturize with light skincare products
Summers are the time to switch to lighter, water-based skincare products. Due to sweat, grime, and sun, our skin gets easily clogged in summertime. It is better to avoid heavy, buttery skin products and use more of lighter consistency one to ensure it's not heavy.
If you don't want to use multiple layers of products, use a sunscreen with moisturizer like this. Or use a moisturizer with sun protection. Either is fine, as long as you moisturize and protect your skin (more to come on this).
Don't forget a good night cream in your summer skin routine. It is necessary in summers as it can repair the damage caused to the skin throughout the day. I have used this and have had a good experience.
3. Protect with sunscreen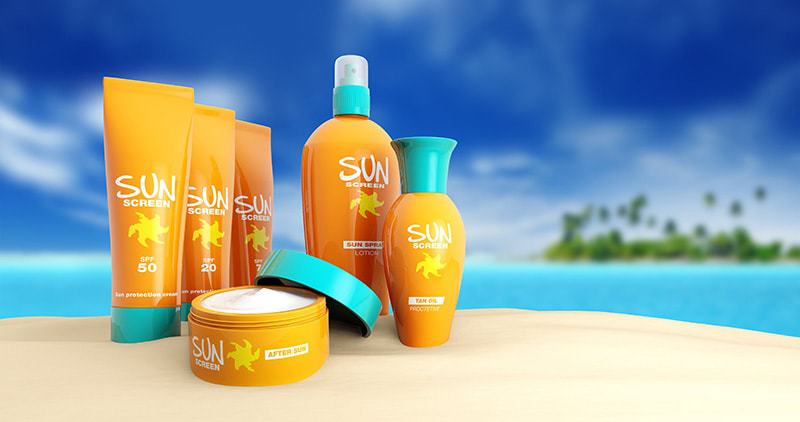 As good as the sun feels on our skin, avoid going out in the sun without proper protection.
As much as possible, stay indoors or at least avoid going out during peak sunny times. If you absolutely have to go out, couple a broad-spectrum sunscreen with full sleeves dress and a hat to protect you from direct sun exposure.
As the sun is stronger and harsher during summers, the damage to exposed skin is also greater. Always remember to wear a good sunscreen with at least 30 SPF. It is better to use a wide spectrum sunscreen which can provide protection from both UVA and UVB., like this one.
Remember, higher SPF does not mean higher protection. SPF is just a Sun Protection Factor which means how long the sunscreen can protect your skin from damage. SPF should depend on your lifestyle, skin type, routine, how long you will be in direct sun among many others.
4. Exfoliate remove dirt and dead cells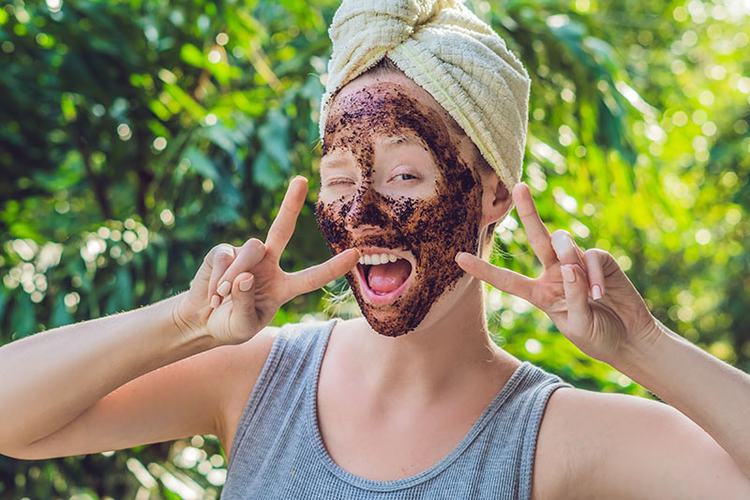 Summer brings sweat, at least in India where it gets really hot. Dust in the air tends to stick more to sweat thereby blocking your pores. This may cause more black or whiteheads.
So how to get rid of this and open up pores? By exfoliating!
Exfoliation helps to remove dead cells, grime, and dust which may clog your pores. Using a gentle scrub (could be homemade, or store-bought) massage in gentle circular motions. Don't be too harsh on your skin as it can cause more damage.
Along with getting rid of dead skin cells, exfoliation also helps to remove tan and add glow to your skin.
Want to try some easy, DIY scrubs present in your kitchen? Check out my list of some super easy DIY scrubs.
5. Tone with natural toners
Toners help in balancing the ph of the skin and take care of an uneven skin tone. In summers, try to use natural toners like ACV, or rose water, witch hazel to take care of any uneven skin tone as well as refresh the skin.
Take a cotton ball and spread any of the above toner on clean face. Enjoy the refreshing feeling.
I have a list of DIY toners you can explore and try at home.
6. Refresh with facial mists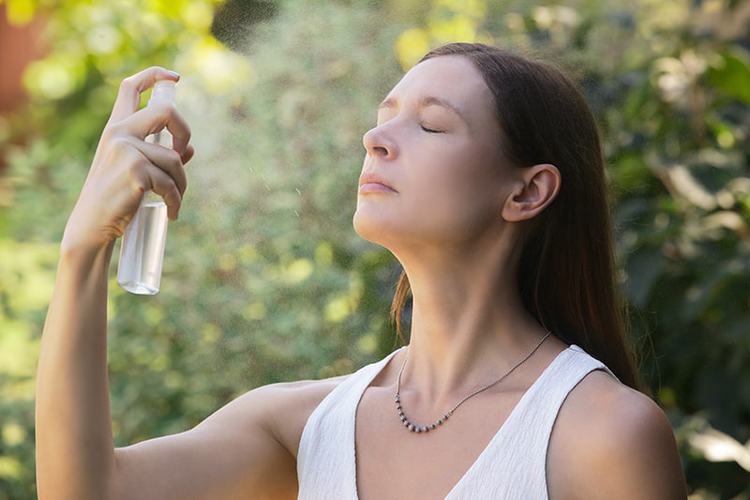 What to do when you are on the go and can't wash face even though you really, really want to? Well, use facial mists!
Facial mists are an awesome product to use this summer. They provide relief from summer, hydrate the skin and refresh on a hot, sunny day. They are generally gentle and unlike soap, won't dry out your skin. So, that's another plus.
It's super easy to use facial mists and highly convenient when you can't wash your face with water. Keep a bottle of facial mist in your bag, and spray on whenever your skin feels tired, dull. It will add an instant glow to your skin, all the while refreshing you on a hot day.
Simple facial mist recipe:
Distilled water
Rosewater
Lavender essential oil
Amber colored glass spray bottle
In an amber-colored glass spray bottle, mix equal parts distilled or filtered water. Add a few drops of lavender essential oil and give it a good shake. Spray as and when required.
7. Get glowing skin with healthy food
There is no avoiding this. The saying, we are what we eat is one of the most solid facts of life.
In summers, try to avoid oily, spicy food. Instead, favor, light, healthy food. As per Indian tradition and Ayurveda, oily and spicy food cause more heat in the body. Since, in summers, the temperature is already high, this extra heat causes health problems like the gas burn, acidity, and even breakouts.
Light food is easy to digest and can provide more nutrition without causing extra load on the digestive system.
On the plus side, it is always better to eat healthy. By doing this, you will be blessed with glowing skin as well as fitter. So enjoy your glowing skin as well as those super abs (my target for one day!)
8. Exercise
Longer summer days make it easier to incorporate exercise into our lifestyle. If you are a beginner, start with walking to get into exercise. If you are used to exercising, continue doing so now in the summers.


How to treat sunburn?
Sunburn happens due to exposure to strong sun. The sunburn causes red skin with irritation or itching, and the skin may be hot to touch. Follow simple tips to take care of sunburn.

1. Cold water
Nothing can combat heat as effectively as water. Have a cold water bath or apply an ice compress to the sunburns. This helps to cool the heated skin and reduce burns.
2. Aloe vera gel
When applied to sunburns, aloe vera gel helps to reduce the heat and cool the skin. This helps to reduce skin damage and treat sunburn.

3. Cucumber
Similar to aloe vera, cucumber also cools the skin and helps to repair the skin damage. Apply few slices of cucumber on the sunburns, and let it sit for few minutes. Cucumber absorbs the heat from the skin and helps reduce the burns.

You can also use cucumber gel, similar to aloe vera gel. Apply enough quantity on the burns and let it dry.

4. Clays
Clay masks are another excellent solution to sunburns. Clays are generally cooling and absorb dust and dirt from the skin. When skin is cooled, it helps to heal the burns faster. Try Multani mitti or sandal masks.


As you can see, with sunburns, you need to let your skin cool down. Cooler skin doesn't pain much and heals faster.

Conclusion
Hope these simple skin care tips were helpful for you to get glowing skin this summer. I'm always looking to include new practices in my routine. Do you have any other tips to share? Share in the comments and let us all enjoy healthy, glowing skin.