Hi beautiful! As you may have observed, I bought quite a lot of items from mCaffeine. After shampoo, conditioner, hair oil, and face wash, today I'm going to review the mCaffeine naked and raw coffee face scrub. I have been using this scrub for some time, and here comes the review now.


What the brand claims
"Drop that mask with mCaffeine Naked & Raw Coffee Face Scrub. A nourishing and exfoliating facescrub, made from Pure Arabica Coffee and essential Vitamin E. This facescrub gently buffs away all the rough dead skin cells, stubborn blackheads, tan and impurities."

As per the company claims this scrub works effectively on uneven, rough, aging, and scarred skin. All this without drying it out.
The company claims that the combination of exfoliating and moisturizing elements in this scrub will help to clear away signs of damage, aging, and pollution. And give you clear, youthful-looking skin.
And how does it achieve that? By opening up the clogged pores and exfoliate to a clear, fresher, and younger-looking skin.
These are pretty tall claims, let's whether mCaffeine face scrub delivers them or not.

But first the product details.

Packaging
The packaging is very similar to mCaffeine coffee face wash.
It comes in a tube with a tight flip-top. The top is leak-proof and prevents any spillage. The tube has an outer carton that has all the details and info printed.
The packaging is good, efficient, leak-proof, and travel-friendly.


Ingredients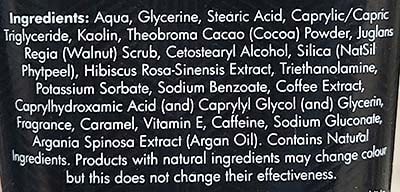 This scrub contains some powerhouse ingredients for skin like:
Kaolin, cocoa powder, walnut scrubs, hibiscus extract, coffee extract, Vitamin-E, argan oil.
Along with these natural ingredients, it also contains some chemicals. So this is not really a "completely" natural face scrub.


How to use mCaffeine face scrub
Usage directions are printed on the box. I have tried this in multiple ways to identify the best one: with normal water, rose water, and ice cubes.
As with any other face scrub, mCaffeine coffee scrub also worked great with ice cubes. It removed blackheads, made my skin cleaner, and refreshed. But it is cold!! Now that winters are just around the corner, it might be a good idea to skip ice in near future.
Plus it takes a lot of time to use it with ice. So, I found the mid-way, of using it with coldest water I can find.
In summers, you can use this scrub with ice cubes. It will be more effective, refreshing, and chillaxing.
If you are using it in winters, use it with rose or any other hydrosol. End it with a cold water rinse to close the pores without catching a cold.


Texture & Fragrance
mCaffeine coffee face scrub has a smooth, gray, granular texture. You can feel the presence of walnut granules but as the company claims, it isn't harsh on the skin.
The scrub is smooth and spreads easily on a wet face. It doesn't require a lot of water or effort to spread it around.
The granular texture clears the skin and removes blackheads. The smooth texture is also very easy to rinse and cleanses away quickly.

This scrub has a strong, artificial smell. I am not sure if the fragrance resembles any natural product, but I find it too chemically. The smell does not linger too long and fades once washed.
As coffee was mentioned as one of the major ingredients, I was expecting a caffeine smell. But got the artificial smell. Talk about disappointment!


Price
MRP of 100 ml is Rs 349. Though you may find it cheaper at online stores.


My review of mCaffeine Naked and Raw Coffee Face Scrub
I have been using mCaffeine face scrub for more than a month. It is super easy to use.
I personally like to use one of my DIY face scrubs as they suit my skin. But the crazy hectic work schedule these days didn't leave me with time or energy to whip up something, no matter how simple.
With this scrub, you don't have to spend lots of time or effort to exfoliate. It spreads easily, and a little amount is enough to cover the entire face. Gently massage wet face in circular motions, and rinse it. Voila, you are done!
It clears away the blackheads, reduces little bit of tan, and gives glowing skin. And the best part, it does not dry out skin.
It could be due to the presence of argan oil, but this face scrub is not as drying as others available in the market. It is not necessary to use a moisturizer right after using this.
At times I have even skimped on using face pack, and still, this face scrub stood good.
This has become my go-to face scrub for those busy, blackhead laden days.


Suitable For
The company claims this face scrub is suitable for Normal to Oily Skin. Though this scrub worked great for my acne-prone skin, I feel people with very oily skin may find it too gentle.
I will say, this will work best for people with normal to slightly oily skin.


mCaffeine naked and raw caffeine scrub benefits
Nice ingredients – includes kaolin, argan oil, hibiscus
clears the blackheads
removes slight tan
does not excessively dry out the skin
does not cause any breakouts in acne-prone skin
Cons of mCaffeine face scrub
Strong chemically smell- it may bother people with a sensitive nose
Expensive compared to other scrubs available on the market
May not suit people with very dry or very oily skin


Recommendation
I will recommend mCaffeine coffee face scrub for people with normal to slightly oily skin. People with very oily, or dry skin may find it too gentle or abrasive respectively.


Repurchase
Even though this scrub worked fine for my skin. I may skip re-buying this as there are a lot of other options in the market. I would either stick to one of my DIY scrubs or try another face scrub available.


Rating
3/5 spoons of happiness.
Conclusion
Hope this review of mCaffeine naked and raw coffee face scrub helped you in your hunt for next face scrub.
Have you used mCaffine coffeee face scrub? Share your current favorite scrub in the comments, and I would love to try it out.
Have you used mCaffine coffeee face scrub? Share your current favorite scrub in the comments, and I would love to try it out.
Till next time, stay beautiful!